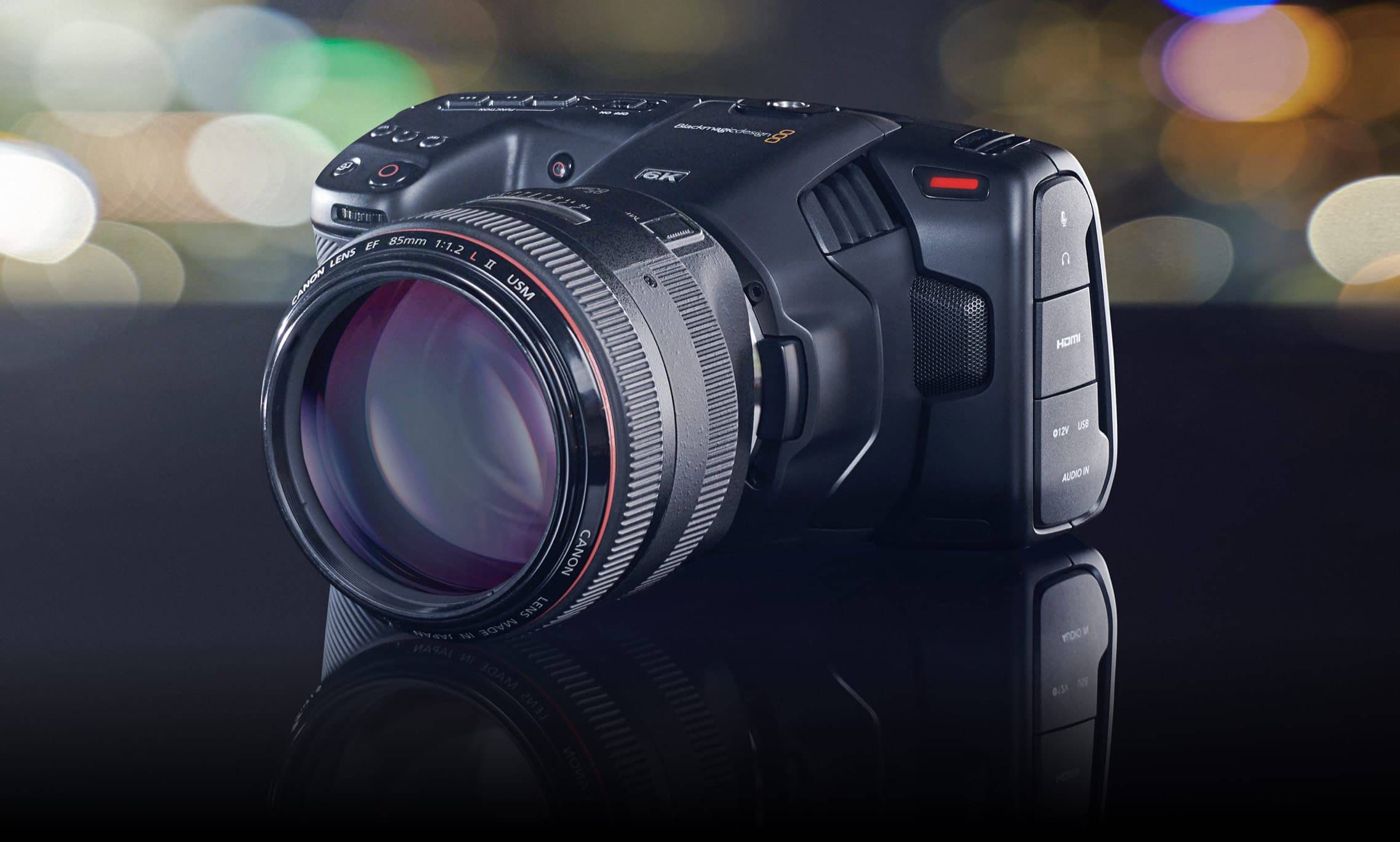 Now Presenting
Blackmagic Design
Pocket Cinema Camera
The Next Generation Handheld Digital Film Camera
Blackmagic Pocket Cinema Camera is better than a simple video camera because it has professional features allowing you to create the same "look" as Hollywood feature films. The combination of high dynamic range, great low light performance and Blackmagic RAW gives you feature film images with precise skin tones and gorgeous organic colors. You get advanced features such as 4K or 6K models, large 5" LCD for easy focus, SD card and CFast media, external USB‑C media disk recording, EF or MFT lens mounts and more! DaVinci Resolve Studio is also included for editing, color correction, audio post and VFX!
---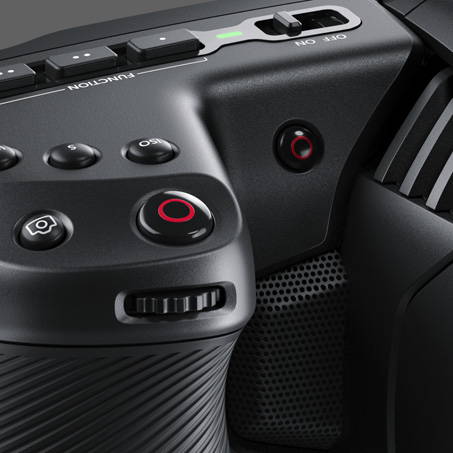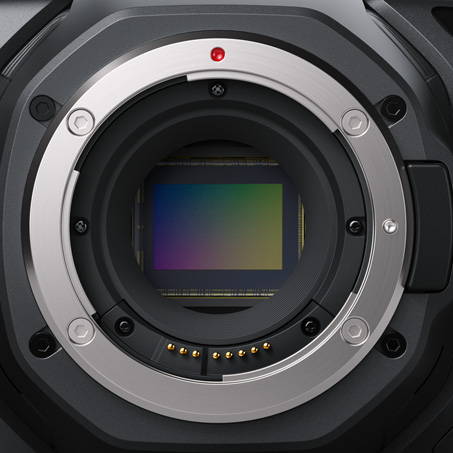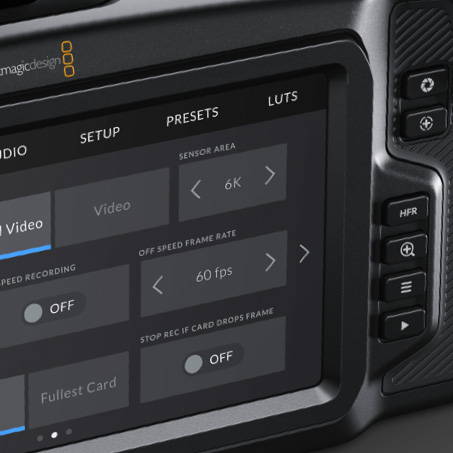 ---
Blackmagic Pocket Cinema Camera 6K Key Features
The Blackmagic Pocket Cinema Camera 6K features a Super 35 size sensor, 13 stops of dynamic range and dual native ISO up to 25,600 for HDR images and incredible low light performance. External controls give quick access to essential functions, while the large 5 inch touchscreen makes it easy to frame shots, focus accurately and change camera settings. Features include built in SD/UHS‑II or CFast 2.0 recorders for Blackmagic RAW or ProRes recording as well as a USB‑C expansion port for recording externally to disks, plus EF lens mount, built-in microphones, XLR input, full sized HDMI, 3D LUT support, Bluetooth and more.
Effective Sensor Size
23.10mm x 12.99mm (Super 35)

Lens Mount
Active EF mount.

Lens Control
Iris, focus and zoom on supported lenses.

Dynamic Range
13 Stops.

Dual Native ISO
400 and 3200

Shooting Resolutions
6144 x 3456 (6K) up to 50 fps
6144 x 2560 (6K 2.4:1) up to 60 fps
5744 x 3024 (5.7K 17:9) up to 60 fps
4096 x 2160 (4K DCI) up to 60 fps
3840 x 2160 (Ultra HD) up to 60 fps
3728 x 3104 (3.7K 6:5 anamorphic) up to 60 fps
2868 x 1512 (2.8K 17:9) up to 120 fps
1920 x 1080 (HD) up to 120 fps
Frame Rates
Maximum sensor frame rate dependent on resolution and codec selected. Project frame rates of 23.98, 24, 25, 29.97, 30, 50, 59.94 and 60 fps supported. Off-speed frame rates up to 60 fps in 6K 2.4:1, 120 fps in 2.8K 17:9 and 1080HD.
Focus
Auto focus available using compatible lenses.
Iris Control


Iris wheel and touchscreen slider for manual iris adjustment on electronically controllable lenses, iris button for instant auto iris settings on compatible lenses.
Screen Dimensions


5" 1920 x 1080.
Screen Type


LCD capacitive touchscreen.
Metadata Support
Automatically populated lens data from electronic EF lenses. Automatic recording of camera settings and slate data such as project, scene number, take and special notes. A 3D LUT can also be embedded in metadata of Blackmagic RAW files.

Controls
Touchscreen menus on 5 inch screen. 1 x Power Switch, 1 x Record Button, 1 x Stills Button, 1 x Scroll Wheel with push integrated into handgrip, 1 x ISO, Button, 1 x White Balance, 1 x Shutter Button, 3 x software configurable Fn buttons, 1 x High Frame Rate

(HFR) Button

, 1 x Zoom Button, 1 x Menu Button, 1 x Play Button, 1 x Focus Button and 1 x IRIS Button.