Tim Babiak is a full-time photographer and a long-time instructor at PCU. He is a PPA Master Photographer, Photographic Craftsman and Certified Professional Photographer. For many years, Tim has served on the Board of Directors of the Austin Professional Photographers Association and is a two-time recipient of the Photographer of the Year award from the APPA. Tim is also a two-time Bronze Medalist in PPA's International Print Competition.
---
Josh Baker, life is one big adventure. He founded AzulOx Visuals in 2009 and has been exploring the world and new photographic techniques ever since. Josh loves to use his photographs to tell stories. Josh is passionate about photography and the creative development of his students. He uses a variety of teaching techniques to help his students realize their photographic vision.
---
Todd White specializes in fashion, commercial and lifestyle videography and photography. His client list includes Facebook, Pinterest, LUMIX, Sam Villa Hair, The Alamo, Neiman Marcus, Nolan Ryan Foods and various fashion designers. Todd has photographed with many country music artists including Carrie Underwood, Luke Bryan, Miranda Lambert and George Strait. His commercial work has been published in Vogue, British Vogue, Elle, People, the Wall Street Journal as well as other publications. He is a LUMIX Global Ambassador and partners with Westcott, Nanlite and Saramonic products. He is a 3-time Emmy award-winning Producer and Videographer for the Daytripper TV show on PBS.
---
Ian McEnroe was born in Michigan but grew up in Texas. His interest in photography started with a manual camera on which he learned to shoot film. Ian earned his Fine Arts degree from the University of Texas, which led to his award-winning photography and a long career as a photographic consultant and an instructor to thousands of students at all levels of learning. Most recently, the cookbook he photographed and co-authored with his wife; "Dining with the Dead" has been named Best Specialty Cookbook for 2022 by the Independent Publisher Book Awards. When he is not taking photos, he enjoys painting, jazz, collecting records, reading, coffee, and, of course, good food.
---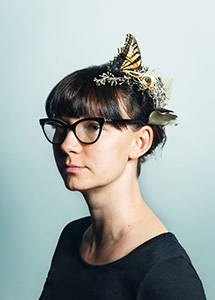 Lee Hoy is a wildlife, landscape, macro and night sky photographer based out of the Davis Mountains in west Texas. In addition to being the lead adventure photography workshop instructor for Precision Camera & Video, Lee is also owner of Big Bend Birding & Photo Tours and serves as the lead photography workshop instructor for Wildside Nature Tours. He loves to teach workshop participants how to capture outstanding nature images and to blend photography and an amazing experience into one. He speaks at photography and birding festivals around the country and when not traveling loves to enjoy the night sky and wildlife in his own 18 acres of paradise on top of a mountain in west Texas. He is one of seventeen US and Canadian OM System Pro Ambassadors and loves sharing the amazing features and capabilities of the OM System. We are expanding the Precision Camera & Video workshops to include more domestic and international destinations for nature photographers!
---
Tamra Green
Tamra has been in the photography business for over 20 years and has brought her experience and knowledge to the Precision Camera sales department since 2011. She strives to share her love of photography with her community by helping her customers find the perfect camera and teaching them how to capture that perfect memory. She also enjoys sharing her knowledge to help future creatives by working with both junior and high school students to teach the skills they need to grow their love of photography.
---
Alyce Bender is a nature photographer, writer, educator, and adventurer. Camera in hand since childhood, her fascination for photography developed into a career after serving in the U.S. Air Force. Her passion for wildlife and the natural environment compels her to connect others with nature through sharing both visual art and in-field experiences that promote conservation, creativity, and ethical photography. She is a Tamron USA Ambassador, contributing writer and photographer for the Journal of Wildlife Photography, and a Nature First Texas Region Ambassador. Her work has been featured in group and solo gallery shows across the U.S. as well as in international publications from the U.K. to Japan. Bender leads photography adventures around the world to help beginner through advanced photographers explore and expand their personal vision and naturalist skills ethically. When not in the field, she offers a variety of educational programs both in person and virtually for photography organizations large and small.