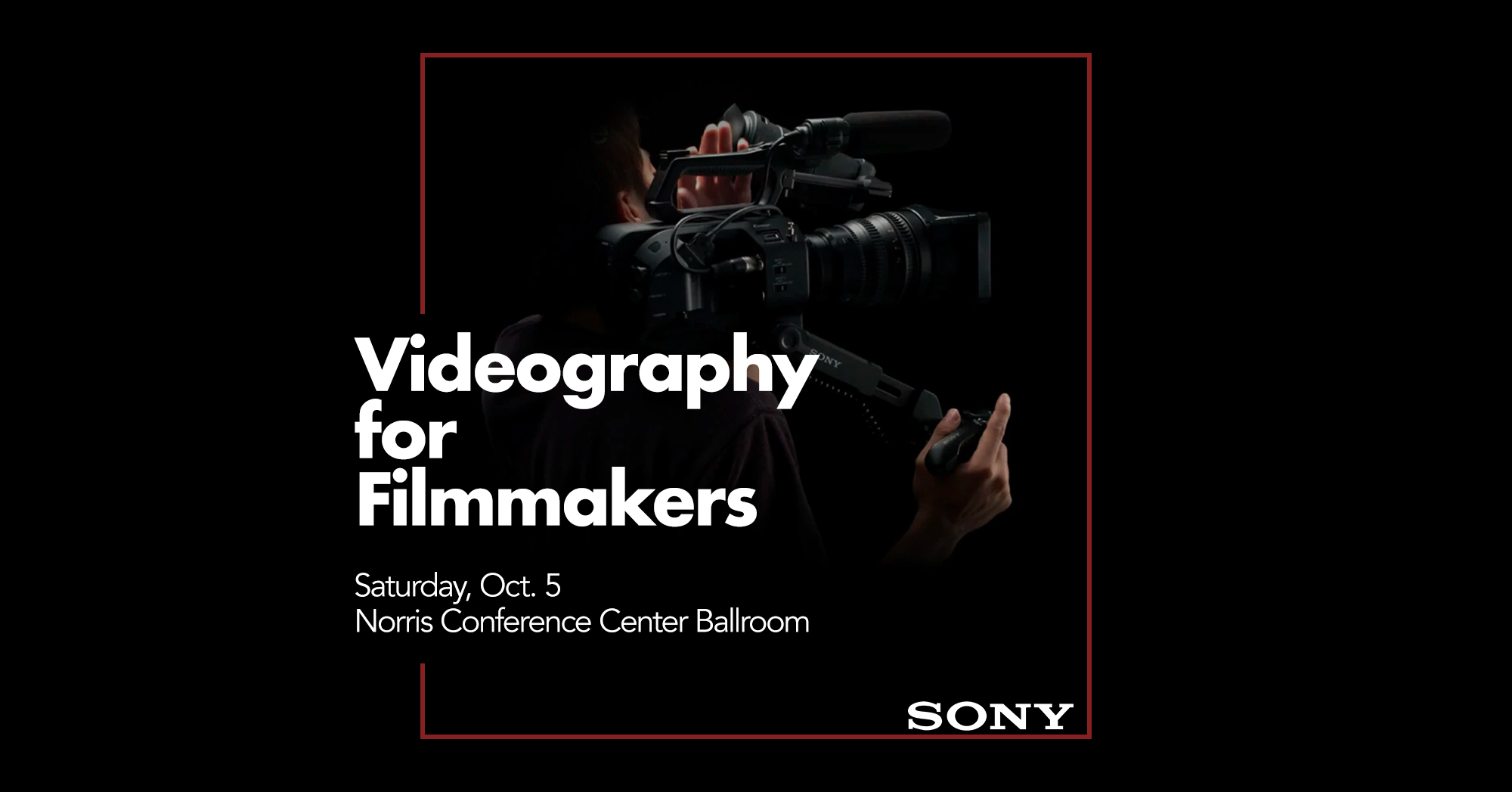 Join Precision Camera and Sony for a video-centric workshop, Short Film Screening and education symposium from 1 to 7 p.m. on October 5 at the Norris Conference Center Ballroom. We have video professionals Rob Scribner, Chuck Fishbein and a special guest speaker Terry White from Adobe. This is a great opportunity to get inspired, learn from top professionals and network with the local video community.
Video Symposium
From 1 to 5 p.m., we'll have multiple sessions covering topics including production logistics, gear, editing, and we'll even shoot a creative scene LIVE on Stage. See below for a full schedule and detailed descriptions of each session.
Short Film Contest — Top Entry Screening and Awards
After a short break, we'll dive into a screening of the top entries into our short film contest and our panel of expert judges will do a critique of those entries before selecting our winners. Make sure to learn more and enter the contest — the deadline is Oct. 1! See below for a full schedule.
Symposium Speakers
Moderator -
Jesse Dean of Saramonic
We'll also have short presentations from local filmmakers Nick Piper and a special guest.
Full Schedule
1 to 2 p.m. - Introductions, work, Anatomy of a Production
15 Minute Intro and screening from Scribner - Chasing the Stars
15 Minute Intro and Screening from Fishbein - Crazy Duck Video
30 Minute panel on "The Anatomy of a Production"
A discussion on the ins and outs of putting together a production from two different standpoints - be it a client project or a passion project. Discussion will include subjects like - storyboarding, concept, music, location, casting, budget and more.
••••••••
2 to 2:45 p.m. - What's in your bag
We will peer into the bags of two working cinema professionals and use this opportunity to foster a conversation about the tools of the trade and why. This will also serve as a segue into our next segment, Shoot a Scene LIVE!

••••••••
2:45 to 3 p.m. - 15 Minute Break
••••••••
3 p.m. 4:15 p.m. - Shoot a scene - LIVE!
Our cinema professionals will work together to shoot a creative scene with actors, lighting and all the challenges of the real world. This is a fantastic opportunity for a look into the workflow of a professional production and how two experienced artists work through problems.
••••••••
4:15 to 5 p.m. - Editing with Adobe
Adobe's Terry White will use the footage from the scene we just shot as an opportunity to explore editing and mobile editing with Adobe Premier Rush. We'll premier the scene later in the evening.
••••••••
5 to 5:30 p.m. - 30 minute break
••••••••
5:30 to 7 p.m.
5:30 to 6:10 p.m. - Screening of Top Short Film Contest Entries
6:10 to 6:30 p.m. - Precision Camera staffer and Filmmaker Nick Piper discusses his short film project. TBA filmmaker discusses their project.
6:30 to 6:45 p.m. - Premier of clip from Shoot a Scene LIVE!
6:45 to 7 p.m. - Awards for Short Film Contest
Judging for contest by panel of speakers.